Less Pomp and Circumstance and more sparse and socially-distanced; the presidential inauguration is slated to take place on January 20, 2021.
As it has occurred every four years since 1789, when our nation's very first president, George Washington was sworn into office, we as Americans, will cast our eyes to Washington DC in eager anticipation of all the pageantry of the Presidential Inauguration processional from the swearing-in ceremony to the large-scale ballroom galas.
The meticulously calculated ceremonial occurrence signifies the triumphant return or the much-heralded arrival of our nation's new president and vice president.
While the initial swearing-in service is viewed as a subdued affair, the celebration or multiple celebrations that follow offer a much-needed reprieve from the long and winding campaign trail. A chance for the nation's chosen leaders to shine and revel in their victory, the inaugural gala and potential subsequent galas also provide forums wherein they can thank their throngs of supporters.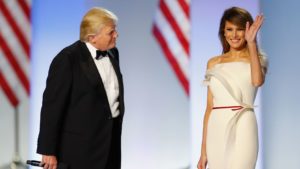 And, though this year's inauguration will assuredly be a markedly different type of affair due to the malingering effects of the COVID-19 pandemic, it nonetheless, still remains a monumental event in our country, one that commands attention and respect both in the U.S. and on the worldwide stage. As such, the designers and fashions worn by the major players remains one of the most closely watched and talked about elements of the festivities.
A reflection of the incoming Administration's personal styles, values and image they want to convey to the world, the clothing they don makes a grand statement. From the swearing-in ceremony to the endless string of evening balls, it is not just one but a trousseau of outfits the high-profile leaders must wear throughout the course of scheduled inaugural events.
Initially comprised of a small simple ceremony, the day of the inauguration (in non-COVID 19 years) has expanded over the years to include the following series of events and celebrations:
Church service prior to the swearing-in ceremony (tradition started by President Franklin D. Roosevelt in 1933)
Following the worship services, the principal players: the president and vice –president elect, the current president and vice-president, primary family members, and various public officials—travel to the U.S. Capitol where the official swearing-in ceremony will take place.
First, the vice president-elect is sworn-in, usually by an official of his/her choosing, Next, the president-elect is sworn-in, usually by the Chief Justice of the Supreme Court.
After taking the Oath of Office, the newly sworn-in president proceeds to give an inaugural address outlining his/her visions for the country.
The day then continues with an inaugural luncheon and a processional typically down Pennsylvania Avenue leading up to the White House. This stage, however, has been much streamlined due to necessary security protocols curtailing excessive public exposure.
And, then, the festivities begin with anywhere from two to nine committee balls held in various nearby locations throughout Washington DC.
Since the inaugural schedule encompasses an endless list of appearances, elected officials are expected to rise to the challenge and come prepared for a dizzying array of wardrobe changes; primarily, stately daywear and formal evening wear.
To understand the imprint the fashions worn at each year's presidential inaugural have made over time, we first begin by looking back in history:
The Ladies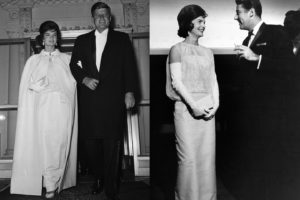 Jacqueline Bouvier Kennedy (1961) – Known for her inimitable style, class and regal quality, Jackie (as she was often called) Kennedy set fashion trends that reverberate to this very day. Her inaugural gown, a white satin sheath with an embellished bodice and sheer overlay was said to be custom designed in collaboration with Ethel Frankau, the head of Bergdorf Goodman's custom salon.  Perhaps, though, it was the matching cape and elbow length white gloves that gave Mrs. Kennedy that 'ethereal' appearance that created a lasting memory in most people's mind.
For the swearing-in ceremony, she wore, what has been dubbed the most iconic inaugural look of all time. The first time the presidential inauguration was to be broadcast on television in color, Mrs. Kennedy made sure to maximize that new technology by wearing an egg-shell blue pillow-box hat designed by Halston perched high upon her head.  Exhibiting elegant, clean lines, the incoming First Lady paired the notable head covering with a matching coat and dress by her personal courtier Oleg Cassini and elbow length gloves in a matching pale blue hue.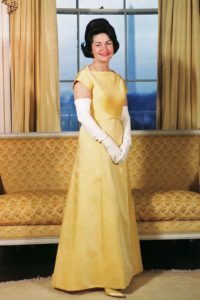 Lady Bird Johnson (1963) – Unlike other political spouses of the same era, Lady Bird Johnson was ambitious, well-educated, and a partner with her husband in his presidency. Mrs. Johnson's inaugural gown reflected her independence: a bold yellow gown designed by John Moore she ordered from Neiman Marcus.  As historians attest, Lady Bird, a most practical First Lady, wanted a gown that would age well.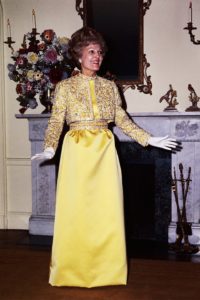 Pat Nixon (1969) – Continuing the theme started by Lady Bird Johnson, Fist Lady Pat Nixon also opted to wear a bold yellow-colored gown. But, adding her own style, the gown she wore, designed by Karen Stark for Harvey Berin, bedazzled with gold and silver embroidery and imbedded Austrian crystals.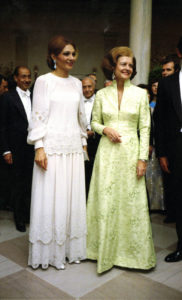 Betty Ford (1975) – The incoming President Gerald Ford did not have a formal inauguration due to his taking office after the impeachment of President Nixon.  But it was said First Lady Betty Ford had a fondness for a particular pale-green sequined chiffon gown designed by Frankie Welch. Embroidered with a chrysanthemum pattern, she wore this gown to several state dinners and represented her sophisticated, albeit more reserved personal style.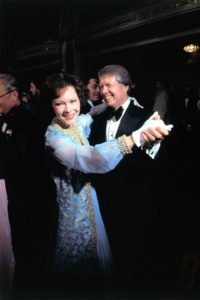 Rosalynn Carter (1977) – A most thrifty First Lady, Rossalyn Carter repurposed her Mary Matise-designed gown (which, remarkably, she purchased off the rack) for her husband, Jimmy's inaugural gala. She initially wore the blue chiffon with gold-trim gown to his Georgian gubernatorial ball in 1971.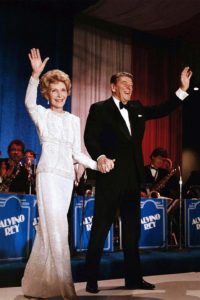 Nancy Reagan (1981 and 1985) – A noticeable departure from her predecessor, Mrs. Carter, Nancy Reagan was quite the fashionista. The wife of the former Hollywood actor, Mrs. Reagan brought high-style glamour into the White House. For her husband's first inaugural affair, she wore a one-shoulder James Galanos beaded gown.
Said to be a favorite designer of Mrs. Reagan, in 1985, she also wore Galanos' design for her second go-round as FLOTUS, as well. This time, she selected a stunning white chiffon gown with Australian and Czechoslovakian beads, which required more than 300 hours of hand labor.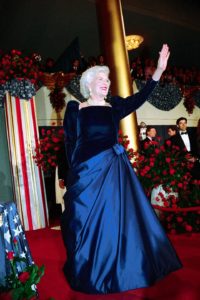 Barbara Bush (1989) – First Lady Barbara Bush, at 63, was the oldest First Lady in modern times. Yet, she still preferred to dress in a stylish manner. So, for her inauguration gown, her selection was an Arnold Scassi-designed velvet blue bodice combined with an asymmetrical flowing satin skirt.  Revered for her candor and humanity, Mrs. Bush's knew how to successfully use fashion to make her presence known.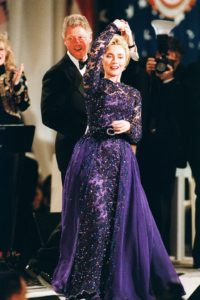 Hillary Rodham Clinton (1993 and 1997) – First lady Hillary Clinton is known for her love of the pantsuit, yet during her husband, Bill's two terms as president, she displayed an array of memorable style choices. In 1993, for Bill's first inauguration, she wore a Sarah Phillips, princess-like, violet lace gown with a full-skirt.
Then in 1997, she swapped designers, going with a golden Oscar de la Renta gown with a sheer beaded overlay and complemented the decorous look by wearing her hair in a sophisticated French Twist. Mrs. Clinton's outfit choices as FLOTUS, Secretary of State and on the campaign trail, have shown her to be a most resilient political player using color to make a statement as she did when she wore a white (emblematic of the Women's Suffrage Movement pantsuit to President Trump's swearing-in ceremony in 2017.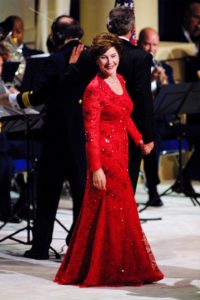 Laura Bush (2001 and 2005) – Radiant in red was how First Lady Laura Bush appeared during her husband's first inauguration. Outfitted in the Republican Party's color, she wore a couture design by Texas designer, Michael Faircloth. Featuring crystal-embroidered Chantilly lace over silk georgette fabric.
In 2005, Mrs. Bush, again, opted for a red gown yet, this time, the designer of her choosing was Carolina Herrera. The shirt dress style, though enhanced with a metallic-like sheen, was considerably less gussied up than her previous inaugural gown choice. Representing her more conservative style, it featured a high neckline and three-quarter length sleeves. A self-professed non-fashion follower, Mrs. Bush reportedly often felt overwhelmed trying to keep up with wardrobe demands she faced as FLOTUS.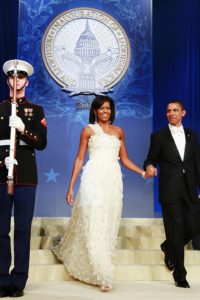 Michelle Obama (2009 and 2013) – As a most innovative and statuesque (both physically and presence-wise) FLOTUS, Mrs. Obama is said to have broken many molds. She gave relatively unknown designers a spotlight and was known to like to mix and match low-end designs with high-end fashions. For Barack Obama's first inauguration she donned a Jason Wu chiffon, one-shouldered gown accented by organza flowers. Since his national debut, Wu has gone on to become a well-regarded, international fashion designer.
In 2013, she again selected Jason Wu as her designer-of-choice. This time, breaking party lines, Mrs. Obama wore a red, custom-made, chiffon gown featuring a unique crisscross neckline. The fact that it was sleeveless was much discussed, as it accented her toned upper arms and shoulders.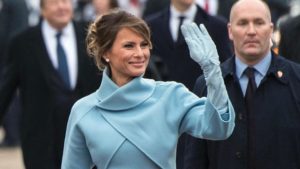 Melania Trump (2017) – For the Slovenian born, former model, Melania Trump as First Lady made a point of dressing the part. Said to emulate FLOTUS Jacqueline Kennedy, Mrs. Trump chose classic, albeit up-scale designer pieces. For her husband's inauguration gala, she selected a white silk off-the shoulder couture gown by Hervé Pierre. Adding special touches to the minimalism of the design, the shirt had a generous slit and a ruffled accent from the neckline to the hem. The only color was a thin red-colored ribbon around the waist of the dress.  For the swearing-in ceremony, Mrs. Trump channeling Mrs. Kennedy wore a custom-made pale blue skirt suit by Ralph Lauren. With a complementary sweeping cape, pillow-box like hat and elbow length gloves, Mrs. Trump received raves for her stylish and poised debut as First Lady.
The Gents
With not as much known about the presidents' (which have all been men) attire throughout history, we present a short overview of the inaugural styles of dress that stood out: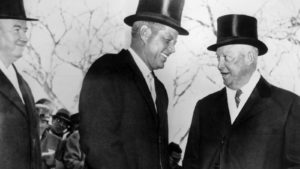 John Fitzgerald Kennedy (JFK, 1961)  – Regarded as the last formally attired, incoming president, he wore a top hat and morning dress coat for his swearing-in ceremony and then a tail coat for the evening affair. Wearing a white tie with wing collar, stiff fronted shirt with a piquée, studded vest, JFK (along with Jackie) is said be the closest version of Royalty we have in the U.S. aka Camelot, a legendary idea of East Coast upper class entitlement.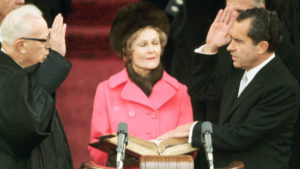 Richard Nixon (1969) – President Nixon was not necessarily known as a 'fashion icon'. Most people tend to think of him as very serious and somber. For his inaugural gala he opted to wear a shawl-collared tuxedo and cummerbund.
 Donald J. Trump (2017) – Surprisingly, President Trump's clothing choices while in office were considered more 'conventional'. For his swearing-in ceremony, he sported a gray suit buffeted by a dark blue cashmere overcoat that, left unbuttoned, exposed a standard white button-down shirt with a tall spread collar. Brooks Brothers was said to have designed the coat and shirt. The talking point for many, though, was his red silk tie as it was long — very, very long.
For the inaugural gala he again went middle-off-the-road electing to wear a conventional, one-button satin peak label black tuxedo.
Barack Obama (2007 and 2013) – Distinguished looking, president Obama also chose Brook Brothers for his first swearing-in ceremony: a black cashmere coat and burgundy cashmere scarf, black leather gloves and a patterned red tie. In 2013, he switched it up a bit and opted for a navy suite designed by Martin Greenfield paired with a light blue tie to complement FLOTUS Michelle's blue Thom Browne outfit.
For the inaugural galas in both 2009 and 2013, Obama was seen wearing custom-made tuxedos by Hart Schaffner Marx, a Chicago-based label in honor of his hometown roots. Obama's preferred tuxedo style was said to be: a single-button, notch-lapel tuxedo which, according to the Huff Post, also tended to reflect his political philosophy: "practical but carefully considered; modern but accessible."
Dr. Jill Biden (2021) – While the incoming First Lady's fashion choices still remain an unknown variable. We do have some clues which designers may make the cut. Gracing the stage with her husband, Joe Biden, in 2009 during Obama's second inaugural celebration, Dr. Biden appeared in strapless, flowing Vera Wang gown. In November, during Biden's acceptance speech as President-Elect she wore an asymmetrical, navy with brightly colored flowers Oscar de la Renta dress which she paired with fuchsia-colored, Jimmy Choo heels. And, following the first (and only) presidential debate, Dr. Biden chose a jade green, jewel-colored silk dress designed by Gabriela Hearst, who recently was named as the top designer at Chloe.
Odds would lean toward Oscar de la Renta under co-creative directors, Fernando Garcia and Laura Kim to be tapped by Dr. Biden to design her inaugural gown. Not only is their style very consistent with the soon-to-be FLOTUS' recent fashion choices, but also the newly elected administration and Dr. Biden have gone on record as saying how much they support foreign immigrants and both Garcia (from the Dominican Republic) and Kim (from South Korea) hail from outside the U.S. Hence, it would send a strong message championing the ideas of inclusivity and diversity.
In terms of ladies' color choices, intriguingly over the years, a range of hues and pantones have been on display during the inaugural events. From clean, minimal white and soft green to bright, bold yellows and reds, there does not appear to be an exclusivity to allow only partisan shades in reds or blues.
 Joe Biden (2021) – As someone who has been called the best dressed politician in Washington DC, it will be interesting to see what president-Elect Biden wears on inauguration day and going forward. Similar to his predecessors, Biden has been known to wear Hart Schaffner Marx suits (like Obama) and Brooks Brothers shirts and coats (like Trump). Yet, it is the old-school 'pocket square' that most would say characterizes Biden's signature style.
Designer Dialogue
In speaking with Chicago fashion designer, Maria Pinto (who regularly dressed former FLOTUS Michelle Obama) on what Dr. Jill Biden may wear for the inauguration day festivities she referred to the incoming FLOTUS' style as 'understated with a little whimsy.'
Further extrapolating upon Dr. Biden's fashion philosophy, Pinto said, "The big picture about life is important to her. She's not just focused on the clothes but on how they help to make a statement."
Once sworn-into office, Pinto said that is when the new administration can exhale a little and, over time, come into one's own in terms of showing off their personal style through their clothing choices.
Pinto suggests that then building a wardrobe suited for the White House, the important items to consider are:
Know your audience
Be true to yourself
Recognize your strengths
Find a comfortable fit