The year 2020 will definitely be one to remember. Who would've imagined the year would be filled with such loss to great uprisings? At the top of the year, NBA-great Kobe Bryant was killed in a helicopter crash, over the summer we witnessed social unrest and the year closed with the current president, Trump, refusing to concede the election. The global pandemic forced everyone inside, so we were glued to the television and our phones. With all eyes watching, pop culture and politics became intertwined. President Donald Trump's slogan, "Make America Great Again," plastered on red hats, became a sign of anti-Black Lives Matter in opposition to the fight against police brutality. Here is a look back at some of 2020's most notable moments during which American politics and pop culture managed to intersect.
Athletes Protest Injustice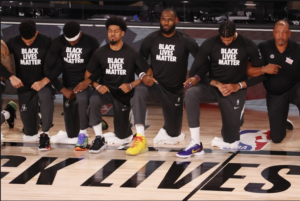 Since the days of Muhammad Ali and Jim Brown, professional athletes have been speaking out against inequality. Athletes realize that not just their money, but their influence can create change. Men and women who use their talents to entertain the masses were told "shut up and play" or "keep politics out of sports." The deaths of George Floyd, an unarmed black man killed at the hands of law enforcement, and Breonna Taylor, who was killed during a no-knock raid, sparked outrage. Many voiced their opinion about social injustice, from basketball players to hockey players, to help raise awareness of the deep-rooted racial bias in our criminal justice system.
WNBA Players Protest Kelly Loeffler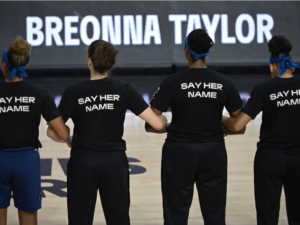 Athletes have spoken out about social injustice and wear pink to support breast cancer awareness, but what about when it comes to political office? Georgia Democrat Raphael Warnock had a runoff against incumbent Senator Kelly Loeffler after neither one secured 50% of the vote. While Loeffler became co-owner of WNBA's Atlanta Dream, players on the Georgia team openly endorsed her opponent. Players disagreed with Loeffler's comments against the Black Lives Matter movement. The athletes wore "Vote Warnock" t-shirts and raised thousands for Warnock's campaign. The organized support helped fuel an increase at the polls.
Honoring the Life of the Notorious R.B.G.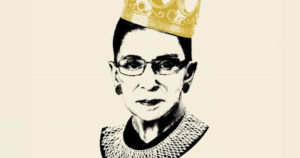 Supreme Court Justice Ruth Bader Ginsburg became the second woman to serve as a Supreme Court Justice. She was a champion for women's rights for three decades. Ginsburg was recognized as a pop culture icon after the 2013 Shelby County v. Holder case when she was given the nickname Notorious R.B.G., an ode to the late rapper Notorious B.I.G. Her new title became a meme and was plastered on t-shirts. The attention didn't stop, and Kate McKinnon impersonated Ginsburg on the television show Saturday Night Live. Ginsburg is mentioned in several popular movies like "Deadpool 2" and "The Lego Movie 2." She was even the focus of an Oscar-nominated 2018 documentary titled "RBG." When Ginsburg died of pancreatic, lung and colon cancer in September, she was remembered as a trailblazer, hard worker and outspoken icon.
U.S. Representative AOC Re-elected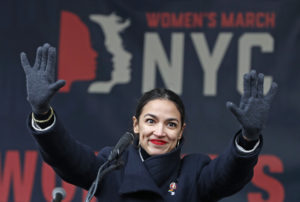 U.S. Representative Alexandria Ocasio-Cortez is the face of new political leaders. She is a millennial who is using what she knows best to reach her generation and the next. As the youngest woman elected to Congress, she's used her age as an asset. For example, she went live on her Instagram to talk about policy while making lemonade. Viewers get the chance to ask questions when she uses such a platform, and AOC responds unscripted and unrehearsed. Some people view her approach as a breath of fresh air, honest and relatable. There were doubts about whether she could be reelected, but people realized her track record was strong enough to elect her again for New York's District 14.
Pete Buttigieg Becomes First Openly Gay Major Presidential Candidate

Becoming the first in a role can be exciting yet scary. As a trailblazer, there is no one to tell you what is ahead or what to be prepared for in the future. Pete Buttigieg, a former mayor of South Bend, Indiana, was the first openly gay man to run for president. Congress legalized gay marriage in 2015, but Buttigieg's relationship with his husband was still a topic of discussion. Buttigieg would go on to be the first Senate-confirmed gay member of a presidential Cabinet.
Celebrities Publicly Endorse a Presidential Candidate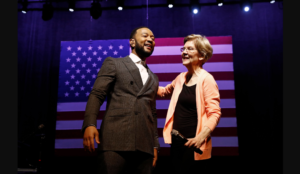 This election wasn't the first to have celebrities publicly endorse a presidential candidate. Remember in 2000, when MTV's Rock the Vote campaign had everyone from P. Diddy to Paris Hilton wearing shirts in support of the movement? The 2020 election is different because celebrities now have their own social platforms with which to speak directly to their fans. Stars no longer have to wait for a television or radio talk show to slip in their endorsement; they can do it on their own time and as often as they please. Actress Jennifer Aniston proclaimed her support for Biden while warning people not to vote for Kanye West. NFL player Brett Favre tweeted in support of President Trump. Musician Kid Rock hosted a rally for Trump, and Lady Gaga attended several Biden events. For many stars, this was the first time they ever voiced their political views.
Fly That Lands on Mike Pence's Head During Debate Goes Viral
Debates typically have a serious tone, with candidates talking about the issues and live Twitter commentary about who won. However, the 2020 United States vice presidential debate went viral for a very different reason. During the debate, a fly landed on top of Pence's head and sat there for minutes. Since Pence's hair is white, the fly was an eyesore to viewers watching from home. The fly was so popular, someone even started an Instagram and Twitter account for the pesky insect. Singer Lizzo dressed up as the famous flying creature. You know a moment made history if there's a Halloween costume attached.
Kanye West Runs for President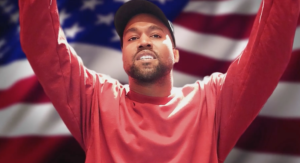 When Donald Trump announced his campaign for presidency four years ago, the press reported the news in the entertainment section. Still, many Americans identified with his message. Kanye West was hoping for lightning to strike twice. The entertainer has always been outspoken, especially early on in his career. West declared his decision to run for president via Twitter. As a third-party candidate, West missed the deadline to get on the ballot in several key states; he had several heated and emotional encounters at campaign rallies.
Saturday Night Live 2020 Political Moments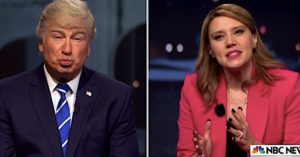 Saturday Night Live, most commonly referred to as SNL, is in its 46th season. The iconic show always has a pulse on what's happening in politics. If it makes the headlines, then it makes its way into an SNL skit. Kate McKinnon played key people like Dr. Anthony Fauci and Rudy Giuliani. For a series of episodes, actor Jim Carrey played Joe Biden, and Maya Rudolph nailed a Kamala Harris impression. Alec Baldwin's Trump character didn't miss a beat this year. The election, while a source of stress for the public, provided endless comedic relief for SNL fans.
Ice Cube Meets With Trump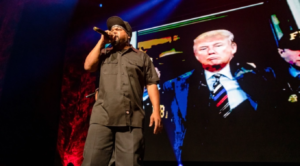 Rapper Ice Cube was under the microscope and highly criticized for meeting with President Trump. Cube drafted a "Contract with Black America"; it was a plan to address racial inequality, police reform and interest-free home loans for Black Americans. The entertainer said that both campaigns reached out to him about his plan. The Biden-Harris team said they could meet after the election, and the Trump campaign said they wanted to talk to him. Cube spoke against Trump in 2016, so the willingness to work with him came as a surprise. Cube said he was open to working with whomever would work with him, regardless of the political party.
Political Fashion Statements in 2020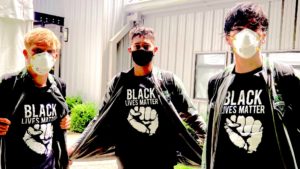 Who knew a red ball cap with a white lettered slogan or a political pink power suit could become fashion statements? Celebrities like Kerry Washington and America Ferrera rocked millennial pink power suits in support of an organization called Supermajority. Proud Trump supporters wore "Make America Great Again," MAGA hats that quickly sparked heated debates. The pandemic required safety measures like social distancing, so the word "vote" was presented on masks and t-shirts.
Music and Politics in 2020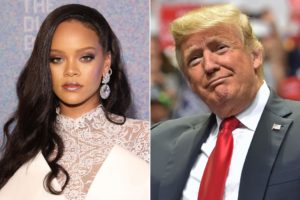 Music has the power to set the mood and tone at an event, so it's only fitting that political rallies start with a tune that gets the crowd excited. But what if the artist disagrees with that politician's position — should it still be played? Several big artists like Elton John, Sia, and Lionel Richie wrote a letter demanding the end to the unauthorized political use of music. There were other artists who incorporated politics into their music, taking a stance on certain issues. KeKe Palmer created a song titled "Actually Vote." Stevie Nicks released a song called "Show Them the Way." Finally, a conservative Christian duo, Camille & Haley, expressed their support for President Donald Trump with their song "Keep America Great."
Social Media and Politics in 2020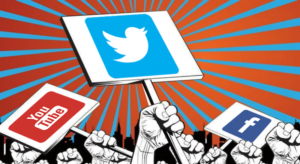 If it wasn't on social media, did it even happen? Social media has become one of the primary sources of information for consumers. Political campaigns need eyeballs, so with paid ads, news outlet posts or your uncle announcing his opinion about a candidate, many social media users said they were "burned out." Twitter, Instagram and Facebook oftentimes act as political arenas. This year there was much discussion around this issue and the platforms' efforts to monitor the spread of potential misinformation. However, social media worked in some politicians' favor, allowing them to talk directly to constituents. For example, AOC used Instagram to speak casually about policy. Social media gave campaigns more control over their candidate's narrative.
Trump Versus Social Media in 2020/Trump's Tweeting Moments in 2020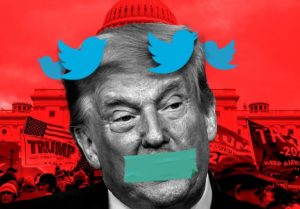 If President Donald Trump weren't tweeting, then the public would think something was wrong with him. Many said his Twitter actions are considered cyberbullying, and the platform flagged some statements as potentially inaccurate information. While his 7,000 tweets might have helped him four years ago, his more than 10,000 messages this year worked against him.
For many people, 2020 was supposed to be the year of perfect vision. While there was much loss due to the pandemic, the year provided clarity on important issues. Even though people were isolated, they were able to identify what matters the most. Just as our homes became a blended location of an office, school and gym, the lines between pop culture and politics are forever blurred. The world may not ever return to "normal" as we once knew it, but that might be for the best.