You likely first heard of Lil Nas X following his 2019 diamond-selling country-rap anthem, 'Old Town Road.' Perhaps you were aware of his brave, warmly received coming-out, or his hyperactive, ultra-engaged Twitter following. Maybe you don't know him at all. After all, the pop-rap artist has only ten songs to his name. Despite all this, because of the ubiquity of 'Old Town Road,' his deft utilization of social media and internet culture, and his tendency to create headlines, Lil Nas is undoubtedly, somewhat surprisingly, a household name.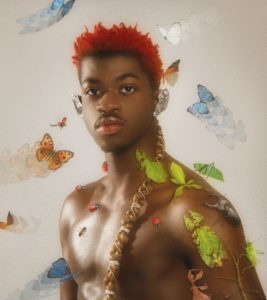 If you've been living under a rock that's still running on dial-up, however, then your first encounter with Lil Nas X likely has come in the wake of his latest single, "Montero (Call me By Your Name)," and the highly controversial music video that came with it. Sonically, "Montero" isn't exactly the genre bending, family-friendly bop that 'Old Town Road' was. It's a rather tame, somewhat generic pop song with radio-ready melodies, ample vocal modification, conventional song structure, and trendy interpolations of latin guitar riffs and flamenco claps. What has driven the moral majority (read as: Twitter Bots, right-wing bad actors, and conservative Boomers) into frenzy is the subtext of the song, the subtext of Lil Nas himself, and of course, the deliberately outlandish and provocative visual companion.
Lil Nas, openly gay, vocal, and acutely aware of the political context in which he works, makes a defiant statement with the track and the spoken-word introduction of the video. "In life, we hide the parts of ourselves we don't want the world to see. We banish them," says Lil Nas as the camera pans over a hyper saturated, Afrofuristic dreamscape. "But here, we don't. Welcome to Montero."
Lil Nas –the musician and the man– has no interest in the subtleties or minimalism favored by other Black, queer popular musicians. Where Frank Ocean favors privacy, metaphor and stripped back approaches to sexuality, Lil Nas instead chooses to confront a society and music industry that largely still engages in a "Don't Ask, Don't Tell" mentality with brazenness and indiscretion. As he croons about queer love amidst a Gen-Z reimagining of Prince's After World, Lil Nas asserts his personhood and identity with brute force, honoring the countless queer folk that had no such luxury, by taking space, not asking for it.
The media frenzy surrounding the religious —and to many, sacrilegious— iconography in the video is so large, one unfamiliar with it could assume that the entire video depicts hellscapes, demons, sex and Satan. Yet, only one of the three minutes of the video spotlights images that could be interpreted as hell or figures that resemble the devil. The overwhelming majority of the moral outcry on this section of a video mostly concerned with fantasy, futurism and fiction is about a roughly thirty second sequence in which Lil Nas gives a demon-like creature a lapdance. Little has been said about how immediately following this striptease, Lil Nas, our protagonist, snaps the neck of someone who is ostensibly Lucifer.
Great pop stars challenge the status quo. From the Bonfire of the Vanities in Renaissance Italy, to Ray Charles using gospel chord progressions to craft 'devil' music, to John Lennon's infamous "bigger than Jesus" claim, to The Rolling Stones' chart-topping 'Sympathy for The Devil,' Madonna's obsession with repurposing Catholicism, and even Kanye West's last brilliant record, Yeezus, artists face expected backlash from the religious right. It usually results in lots and lots of record sales. But when this standard of subversion is used to advance the validity of Black queer people, it becomes moral panic.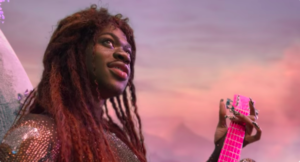 Herein lies the disingenuity and intellectual dishonesty about the pearl-clutching rebuking of Lil Nas and 'Montero.' Political grandstanding, performative piety, and white, Christian heteronormativity have co-opted the message and meaning of 'Montero' entirely. Aside from the countless American-Flag-Emoji Twitter users (all of whom are DEFINITELY real people) denouncing Lil Nas, his biggest critics have blue checks next to their handles, and undeniable, verifiable agendas. From mega-church preachers to presumptive frontrunners for the 2024 GOP Presidential nomination, like Governor of South Dakota Kristi Noem, who herself is currently flip-flopping on opposition to a Draconian bill aimed at barring transgender girls from participating in high school athletics in an attempt to curry favor with her conservative base, those who are publicly finger-wagging and shaming Lil Nas, his sexuality, and his artistry are doing so to to signal their political aleigance to conservative values.
In 2021, the best way to politically communicate is by engaging with the phantom menace of 'cancel culture.' This is usually done by employing Red Scare tactics claiming criticism for bad or harmful behavior is an existential threat to freedom. After failing to steal an election by claiming that an election was stolen, Fox News has now dedicated much of its primetime commentary to warning about the encroaching danger of 'radical leftist' political correctness, and the barbarity of 'cancelling.' These same talking heads, devoid of self awareness or willingly unaware of self, have now taken up the shame pitchfork and have labeled Lil Nas as their own Frankenstein's Monster. The inherent cognitive dissonance and hypocrisy of this ideological inconsistency is magnified when viewed in context with the artistic decision making and themes of 'Montero.' Craig Jenkins, writing for Vulture, deconstructs the opportunistic, cynical nature of this relationship: "Culture war is big business, and the reason the flies are swarming now is that there's as much attention in this for them as for the artist."
It is no secret that Black culture dictates the direction of popular culture. This is perhaps most evident on social media, where Black influencers invent culture, and white ones exploit it. Even within the online outrage machine, this axiomatic relationship between race, the Internet and culture shows itself. Lil Nas, a self-identified Barb (what Nicki Minaj and her loyal stans lovingly refer to themselves as) is acutely aware of how the internet works, the addictive nature of click-bait and controversy, and how Black Internet culture has now become an uber profitable marketing technique. Gun Girl and Kristi Noem quote-tweet Lil Nas? Lil Nas dunks on them. Don't wake the sleeping Barb.
Just as making the alternate title of 'Montero' 'Call Me By Your Name' is an affirmation of queerness, centering Blackness and Afrofuturism while attacking traditionalism is a deliberate callout of the double standards our culture has about queerness and sexuality. Call Me By Your Name (the film) is as white as the day as long: finding a nonwhite face in it is akin to solving a 'Where's Waldo?' puzzle. Montero, Lil Nas' given name, operates on multiple levels of textual, thematic and political messaging. Titling the song 'Montero' reinforces the unity between the content of the song and the filmic reference behind it. "Call me by your name and I'll call you by mine" says Lil Nas in a lyrical explanation of the song with Genius. "The song is my name, but it's the [romantic partner]'s name because I'm calling them by my own name."
When artists release self titled records, the expectation is that the content of the project will be more vulnerable and personal than previous works. To separate name from stage name is to pull back the curtain, making a statement about the person often overshadowed by their image.
By reworking the message and title of Call Me By Your Name, Lil Nas initiates a political affirmation of his queerness; Lil Nas the hitmaker cannot exist separate from Montero, the Black, queer man. 'Montero' serves as Lil Nas' musical coming out: a sonic and visual moment of the truest truth. To be Black, to be queer, and certainly to be both, is ultra political. Trafficking in a medium that demands at minimum the image of authenticity only intensifies that politicization. In presenting 'Montero' in the most controversial manner possible, Lil Nas chose to fight fire with fire. If your metrics for success are quantitative, based on capital value, then he was unambiguously successful. If your metrics for success are based on impact, impression and meaning, Lil Nas has not only scored two number ones, but demonstrated to a generation of young, queer Black people that being youself with no strings attached can generate profit and dictate the cultural conversation.
Prince shifted the dichotomy of the zeitgeist in the 1980s by weaponizing androgyny and sexuality, challenging dominant notions of Blackness through futurist approaches to musicianship and world-building. Lil Nas takes it further, calling out our cultural acceptance of hyper (heter0)sexuality by creating a fantasy world wherein queer people do the same thing. For this, he is chained, stoned, and sent to the lowest rung of Dante's Hell. White queerness gets parades sponsored by JP Morgan and your local police department. Black queerness has to invent worlds to exist within. Prince broke down the door of the mainstream with his 1981 record, Controversy. There's something to be said about that.