"From environmental challenges, to unfairly tilted health care policies, to the unconscionably massive debts your elders have run up for you to pay, today's young people have a huge stake in public decisions."
~ Mitch Daniels, Purdue University President and national spokesperson, ALL IN Campus Democracy Challenge
This was the call to action put out to students in advance of the Presidential Election 2020 by Mitch Daniels, current Purdue University President, former Governor of Indiana, and national spokesperson (along with the much heralded Stacey Abrams, founder of Fair Fight Action) of the ALL IN Campus Democracy Challenge.
To encourage voter participation among young people, specifically college students during the final days leading up to the 2020 election, Daniels announced his and Purdue's partnership with more than 160 (eventually the number increased to 265) other college presidents and chancellors in what they called the ALL IN Campus Democracy Challenge.
Intensely focused upon boosting civic engagement and voter turnout among students, Daniels also pledged Purdue's alliance as part of the Big Ten Voting Challenge. Incepted in 2017, the nonpartisan, campus-driven competition with the call to action tagline, "Democracy Is Not A Spectator Sport. Register. Vote. Win," has since become an annual coordinated effort among the 14 universities (Illinois, Indiana, Iowa, Maryland, Michigan, Michigan State, Minnesota, Nebraska, Northwestern, Ohio, Penn State, Purdue, Rutgers and Wisconsin) that comprise the Big Ten Conference.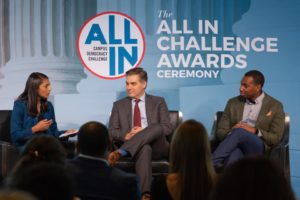 Judged upon the number of students they helped: 1) register to vote and 2) turn-out to vote, participant universities vied for the honor of winning one of two titles – "Greatest Overall Turnout" and "Greatest Increase in Voting Rates."  While the data is still being tabulated by Tuft University's National Study of Learning, Voting and Engagement (NSLVE) to determine the winner(s) of the 2020 Big Ten Voting Challenge, confirmed statistics produced by The Center for Information & Research on Civic Learning and Engagement (CIRCLE) show 52 to 55* percent of youth (persons ages 18-29) voted in 2020 as compared with 42 to 44 percent in 2016.
*Note: Circle stated, once all votes have been dutifully tallied, they project the youth turnout rate could rise as high as 53 to 56 percent and account for a 17 percent share of the total vote count. Among millennial voters, in 2020, their voting numbers increased from 5 to 26 percent, a gain of a whopping 126 percent!
As cited on Circle's website, with regard to the voting turnout of youth, "Their impact —especially youth of color's overwhelming support for Biden — proved to be the deciding factor in key races across the country."
Additionally, of youth's notable degree of civic engagement, Circle commented that, "In an election with historically high overall turnout for the entire electorate, the fact that the youth share in 2020 appears comparable to or higher than the youth share may suggest that young people 'kept up' with older voters, and had a major influence on the electorate."
To invigorate the ears and minds of youth, Stacy Abrams reached out to the noted singer, songwriter and actress, Janelle Monáe (Moonlight and Hidden Figures) to produce an original piece of music for her documentary, "All In The Fight for Democracy" which ended up being what Abrams called, the Anthem for the political movement.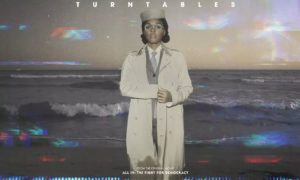 Entitled, Turntables, the lyrics to Monáe's rap/hip-hop 'Anthem' go something like this:
The table 'bout to turn
The table 'bout to turn
The table 'bout to turn, yeah
I've been flippin' through my timeline
Tryna get my mind right
My city cry-y
I got to cool down, but I'm under pressure
Cookin' with my Crisco
Look at where my fist go
A renegade when I'm in a rage
I got to cool down, but I'm under pressure
I keep my hands dirty, my mind clean
Got a new agenda with a new dream,
I'm kickin' out the old regime
Liberation, elevation, education America, you a lie
But the whole world 'bout to testify
I said, the wholе world 'bout to testify
And the tables 'bout to T-t-tablеs 'bout to
Turn, turn, turn (Turn)
Ain't no stoppin' 'til they Turn, turn, turn
And, no doubt, having an empowering political 'marching song' to raise-up young people's consciousness and compel them to head to the polls or mail-in their ballots, also proved instrumental to the movement.
But, not alone in their efforts to corral election-related support among the student and youth demographics, a large consortium of organizations joined-up with the ALL IN movement to intensify the need for more 'feet on the ground' and further mobilize and engage student voter participation.
Included in this vast and widespread grouping were: Alliance for Youth Action, the Andrew Goodman Foundation's Vote Everywhere program, Campus Contact, Every Vote Counts, Students Learn Students' Vote Coalition, Turbo Vote, When We All Vote, Youth Service America, Youth Voting Rights' Campus Vote Project, Vote America and the Voto Latino Foundation, et al.
But perhaps, one of the longest operating and most well-known organizations focused on getting students jazzed up about voting may be Rock the ✔ote.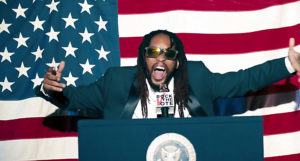 Founded in 1990 with the mission of engaging young people and helping them tap into their political power, Rock the ✔ote encourages voter turnout among youths in a hip 'viral' way via a variety of mediums from grassroots organizing, videos and podcasting to music-song lyrics, popular culture and fashion.
In concert with the Presidential Election 2020, Rock the ✔ote, mounted what they called, "Democracy Summer 2020", a musical extravaganza with the goal to register 200,000 new voters. Hosts of the event included: musical talents, Katie Perry and the Black Eyed Peas, and film/TV actors Rosario Dawson (feature films – Zombieland and Unforgettable and television comedy – Jane, the Virgin and partner of New Jersey Senator (D) Cory Booker) and Logan Browning (Netflix satirical comedy, Dear White People). Envisioning youth to comprise the majority of their base, they planned to meet young people where they live: online.
To show their support of the 2020 election, the edgy alternative initiative, "Drag Out the Vote," sought to register voters and advocate for increased voter engagement in 2020 and future elections via the hosting of virtual performances with drag queens.
With the Presidential Election 2020 having come and gone, we find the tabulated data to be a testament of the droves of students that came out en masse to vote and, as such, the seismic role they played in naming a new president and vice president, as well as, the swearing-in of 67+ new members of Congress.
The historic student voter turnout rate in 2020, while definitely one for the record books, is one that, hopefully, will continue to grow as it remains critical for future generations to remain mobilized and actively engaged in our country's democratic process.
Wondering whether in the year 2021 and beyond if students will maintain such a heightened level of involvement in the political process? As we can infer from a 2019 poll issued by the Harvard Institute of Politics – 61 percent of college-aged voters are concerned about the 'moral direction of our company.'
In the same study, on the specific issues that keep them up at night, college students most commonly mentioned: employment, climate, foreign relations, gun violence, justice reforms and, the top vote-getters, equality and discrimination.
Hence, with such a preponderance of troublesome matters creating 'active' breeding grounds for worry and fear in our country; who better than young, motivated, digitally savvy and connected individuals to challenge the status quo and right perceived wrongs?