Combining dating and politics may not make for such strange bedfellows as one might think.
Nowadays, in what may be a near 360 degrees reversal, the 'outdated rules of dating' are making space for earnest conversations about everything from elections and campaigning to human rights and the environment.  Documenting this trend, Dating.com indicated they had seen a 43 percent increase among users talking about politics on the platform.
Backing up this statistic, Stephanie Coontz, director of research and public education at the Council on Contemporary Families in Austin, Texas, stated that, increasingly over time, political leanings are continuing to play an important role in evaluating prospective partners.
"Now, we have much higher expectations of equality and friendship within marriage," said Coontz. "People believe they need to be deep friends, they need to have a lot in common and spend a lot more time getting to know each other."
Yet, within a virtual-romantic setting, when being advised to be more open and honest about our values and beliefs (including politics), the first question that may arise is — Are we liberated enough to honestly share our views regardless of how controversial or cold-shouldering they may be?
Then there is the second question – Can common political ideologies serve as the foundation for a long-lasting romantic relationship?
Apparently, we're not alone in pondering these types of 'marriage material' questions. Rather, in a 2019 study conducted by the online dating site, Ok Cupid, it was reported that younger generations; shown to be more civically engaged in their communities than their predecessors, also prioritize political compatibility over sexual compatibility. More directly, the young folk seem to endorse connecting via lively political discourse versus engaging in hot and heavy intercourse.
Hence, when looking for love in all the 'right places' and, by this we mean well-lit, online forums rather than dark, dingy bar rooms, like-minded political singles are purposely surfing the web to find online dating sites that best reflect their personal ideologies.
Fortunately, there appears to be no shortage of options. Whether a liberal, conservative, moderate, progressive, patriot, fiscally conservative, or perhaps, apolitical/political atheist, with near certainty, assuredly there is a political-oriented dating site for you.
Here are a few political dating sites that caught our attention:
Bernie Singles
https://www.facebook.com/berniesingles/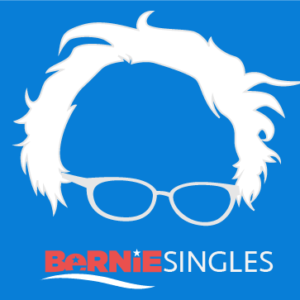 With the tagline, "Join the Dating Revolution," Bernie Singles self-defines itself as a grassroots operation designed to match up progressives who have a shared love for a political candidate. Now defunct, the original site sought to attract new users with such snarky slogans as, "Meet other people who understand the world" and "The one percent are not the only ones getting screwed this election season."  Yet, hope of a return for Bernie Singles seems on the horizon as berniesingles' Facebook page, https://www.facebook.com/berniesingles/, promises a reprisal of the much loved site is in the works.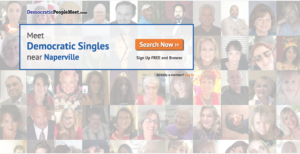 Democratic People Meet
https://www.democraticpeoplemeet.com/
Democratic People Meet.com, as the name would imply, is an online dating site catering to persons who support the Democratic Party. With the mission, "Creating Relationships. Connecting Lives," they believe shared views to be an important foundation of any relationship: friendship, romantic pairing and/or marriage.
Though a number of dating sites were founded on divisive politics, Democratic Singles assures that to visit their site, one need not harbor ill feelings for others' political views, but only a desire to connect with others who share similar views and interests.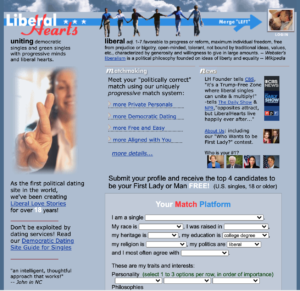 Liberal Hearts
With the simple mission to "unite Democratic singles and green singles with progressive minds and liberal hearts," this online platform seeks to attract expansive, free-thinking singles 'hungry' to connect with others who share similar mindsets.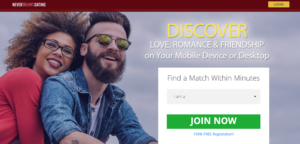 NeverTrump.Dating
What can we say? The name pretty much sums it up…. the dating site's target audience is –no surprise here, Democrats. Incepted by the American Liberal Council, the site was developed as an alternative to the pro-Trump website, Trump.Dating, and promises to welcome all persons regardless of sexual preference, gender orientation, and/or political affiliation.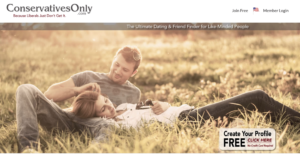 ConservativesOnly.com
https://www.conservativesonly.com/
Founded on the premise that 'liberals just don't get it,' ConservativesOnly.com seeks to create a forum for 'like-minded people who share a passion for life, liberty and love.' The site encourages new member enrollment by saying, "Stop wasting time with undesirables and sign-up today to meet the conservative match of your dreams!"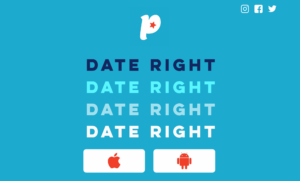 Patrio
With the mission to "bring right-leaning individuals together' and invoking of the motto, 'Date Right," the GOP-focused site, Patrio (short for Patriot) enables users to enhance their profiles by selecting such optional interests as: faith, liberty, free speech, MAGA, build the wall and blue lives matter from the list they provide.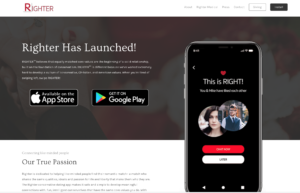 Righter
Going live in 2018, Righter, the newest entry in the online conservative dating arena, states that it was founded on the bedrock of conservatism and, as such, has strived to create a culture of conservative, Christian, and American values.
Conceding the app might not be for everyone. Righter speaks of encouraging female users to be 'ladylike' and male users 'to make the first move' and of celebrating men's masculinity and women's femininity. *Note: Critics of the site cite Righter for failing to expand dating prospects to same-sex couples.
As you can see from the listings above, the online dating scene has dramatically evolved to reflect a more 'awakened' mentality. Yet, even with this new grouping of diverse and politically targeted dating sites, questions with regard to etiquette remains.
As Dating.com cautions,  "Singles turn to online dating to find a distraction from what is going on in the world and don't want it polluted with politics." Further, they add that more than half of their respondents strongly discouraged discussing politics too early in a relationship, calling it, 'a major turn-off' and that, in response, they are likely to 'ghost' anyone who starts up a political conversation.
Thus, if planning to try out an online dating site, you may want to give thought to how much or how little to reveal about one's political leanings. Remember, there is such a thing as TMPI (too much political information).