With the formation of the advocacy group, 'The People, 'Andrew Shue, Katie Fahey, Frank Luntz and Patty Wolfe's mission is not THAT ambitious – they merely want to establish the true representative democracy that our founders intended, or at the very least, ensure legislation does what it was meant to and reflect the concerns, viewpoints and priorities of each and every citizen of the U.S.
While in grade school, we learn of the Constitution and how, in 1776, the ratified version of the framers' collective legislation opened with "We, the People" as an all-inclusive reference beckoning to every citizen in the United States.
Yet, repeatedly the point of contention, is that, at that time in our nation's history of its writing,  'We, the People' only referred to free white men and even more specifically free, wealthy white males.
In looking back to the early days of our nation's founding when the earliest settlers broke ways with England and staged the infamous Tea Party rife with chants of 'No Taxation without Representation,' we see how far the political process has shifted away from the ideals held by our founding fathers (also called framers of the Constitution)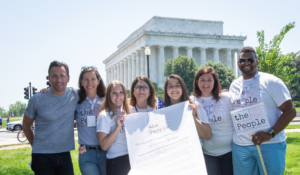 As we age, perhaps not so much out of disillusionment but more as a result of growing awareness, we find the catchall phrase, "We, the People" no longer carries the weight it did 'back in the day' for, rather than represent consensus-thinking; it smacks of separatism, elevating the ideals held by a mere minority of our nation's population to the highest level.
This disjointed representation is then the principle reason upon which the non-partisan group The People was founded.
With the leverage and widespread reach of social activist and entrepreneur (not to mention former Melrose Place actor) Andrew Shue, nationally-known conservative pollster Frank Luntz, nonpartisan grassroots mobilizer Katie Fahey, and award-winning network television producer Patty Wolfe, 'The People' was formed out of a desire to create a more unified nation.
Their approach, you ask? To listen to citizens from all across the country and give them a platform to express their views as to which issues are not being currently addressed or adequately handled by elected officials.
As many fans of the 90's nighttime soap opera, Melrose Place, will recall, Andrew Shue played Billy Campbell, the most-likeable and reliable resident of the gossip-driven West Hollywood apartment complex. In addition to a career in acting, Shue also pursued a personal goal – both prior to and during the filming run of the show, that of becoming an international soccer player.
After graduation from Dartmouth College in 1989, he traveled to Zimbabwe where he did double-duty teaching high school math and playing for the Bulawayo Highlanders of the Zimbabwe Premier League. And then, upon his return to the U.S., in 1996, Shue moonlighted as a player for Los Angeles' Major League Soccer team 'The Galaxy.'
Yet, in the 90's, despite being a very busy guy, Shue also – in part due to his upbringing within a family of socially and politically engaged, change makers and his desire to mobilize people into action – began his work as a social activist.
Hence, in 1993, to encourage young people's interest in volunteerism, Shue, along with his childhood friend, Michael Sanchez, co-founded the non-profit organization, 'Do Something,' which still very relevant and vital to this day is said to have more than 5.5 million members.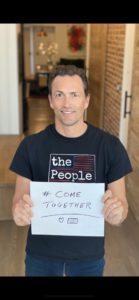 Post-Melrose Place, Shue revisited the role of social activist as he went forth to become technology czar. Again partnering with Sanchez, he created the digital platform known as CafeMom (which he later sold majority interest to Wild Sky Media), to provide isolated mothers with a forum in which they could get advice, swap ideas, receive support, find respite and, generally feel connected with other mothers in a safe and friendly place.
The lucrative sale of CafeMom allowed Shue the means to pursue additional social activism roles and, being distraught by the 'dark times' we were facing, decided our government and society, at pivotal precipices in time, were in desperate need of rejuvenation.
As a whole, the mission of The People is manifested through citizen-led activities and political reform efforts to create a community and a personal connection and, yes, employ technology to help educate a new generation of leaders – in short, to introduce new models for community and neighborhood projects that are currently missing.
Of 'The People,' Shue explains, "No fancy board, just regular citizens coming together to help fix a broken system."
Prior to the racial unrest, which in 2020 and 2021 consumed much of our country's consciousness, Shue said he saw the writing on the wall with regard to bigger societal problems we, as a nation, were to eventually face. As he explained, "I saw the undercurrents [of disruption and dissatisfaction] beginning to metastasize and only getting worse." As such, he and his mobilized colleagues went about the process of setting-up meetings with ordinary folk from all walks of life across the country.
With the means to tackle more sizable philanthropic projects, Shue formed an alliance with the former GOP-pollster for Fox News, Frank Luntz, who, considered a wunderkind with political data, aided in moderating national group panels focused on the key legislative and governmental concerns held by citizens. Ultimately, this evolved into a mergence with the work of Katie Fahey, the self-propelled, twenty-something advocate from Michigan who took up the issue of gerrymandering against her state's legislature and won.
In heralding Fahey's contributions, Shue refers to the more than 10,000 volunteers she had amassed at that time as 'Katie's Army.' Hailing from Michigan, Fahey spoke of how, from a history class, she learned the privilege of being able to vote.
As a college student watching the electoral process and, specifically, the issue of gerrymandering, Fahey said, "I didn't like the idea of partisan politics I saw being played out." So when the citizens of her home state became upset due 'The People's Rule' being overturned whereby all the power reverted back to the lawmakers, she said, "It didn't feel right," and felt the need to do something to help resolve the imbalance.
"Elected officials insulate themselves from the will of the people. They redraw lines every ten years to ensure they have the votes they need." Thus, to end the exclusion of citizens' involvement in legislative matters, Fahey began the ballot initiative process and said she had to build a lot of it from scratch.
"Do Americans want to get divorced?" Both Fahey and Shue posed this question, not to necessarily imply people are looking to secede from the Union but rather that there is a sense of foreboding in society as people view the legislative process as tainted and elitist as opposed to inclusive of the people's will — and many consider the only solution is to simply disengage from the political process.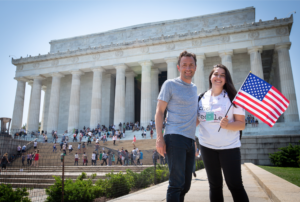 Through tireless efforts and use of her own college funds, ultimately Fahey was successful in her plight to change policies in Michigan regarding gerrymandering. And, as a result of the widespread accolades for her grassroots activities, she attracted the attention of Shue and Luntz, which led to her being asked to partner with them to further develop their coalition.
The People began as a multi-city tour whereby Luntz moderated panels in which citizens from diverse walks of life came together to discuss pressing 'hot topic' issues. From the groups, persons were selected to travel to Washington D.C. in May 2019 to represent their home states in a collaborative effort to draft a Declaration of the People. Changes to be made addressed the inequalities people experienced and the ideals, hopes and promises of The People, and draft of legislation they would like to see realized in America.
Attendees' feedback regarding the participatory process, in general, was overwhelmingly positive, as Fahey shared they were glad: "To be heard," "Not have to get divorced," and "Be part of the process."
Moving forward, though Fahey is inspired to be playing a role in creating nonpartisan change, she says it is important to pose the questions, "Who holds the most power and how do we work together?"
After presenting the two most critical areas we need to consider — Polarization and Fixing Our Broken Political System, Fahey queries, "How do we get to the root cause and how do we change it?"
Without faltering, Fahey confidently answers her own questions, "We rebuild the muscle, listen to speakers, question their approach, and encourage people to take up leadership positions.
So, the issues that The People are looking to take on in the coming months focus on the reformation of redistricting policies to ensure elections proceed fairly and follow proper protocols. As Shue states, "American elections are fundamental to our health on all fronts."
Hence, they are striving to increase the speed by which they enlist volunteers to generate awareness and conduct educational activities, in addition mobilizing people to register themselves and others to vote.
Yet, not nearly satisfied with the current status quo, Shue believes there is much more work to be done. And, as such, in the fall of 2021, "The People' will host a "Meeting of America" to help speed-up grassroots efforts.
Now that people are wide awake, Shue says there is an urgency to do something, and with the right technology, "We can lead the co-creation process to get Americans to own problems and find solutions."
And, in the midst of all the chaos, Shue believes there is good news?!  He foresees the two sides as being able to come together for — progressives always seek change whereas conservatives thrive on competition.
Shue's plan is to initially present a broad coalition agenda (one for all parties) whereby citizens select their top five priorities and ala the Final Five in basketball, they narrow the overall list down to the top five among all respondents which are then are placed on the general election slate to be voted on by members of the public.
Shue refers to this all-hands on deck approach as 'political innovation' or 'resetting America.'  And, as such, the pathway proposed by Shue, does not entail judging or condemning, but rather offers up a way of moving forward that truly is BY and FOR 'The People.'