In another shocking display of police-involved violence, the tragic murder of 13-year-old Adam Toledo rings all too familiar to countless Chicago residents who have struggled to learn the truth from the city's police department.
Just after 2:30 a.m. on March 29th, police responded to a call of eight gunshots in an alley in Little Village located on the West side of the city. According to their report, when they responded to the incident, there was a "confrontation" between them and two males — one of which was allegedly armed. Police shot 13-year-old Adam Toledo and arrested a 21-year-old man who was also on the scene. 
It took more than two weeks for Toleldo's family to view body camera footage of their son's murder, and in that short time, speculation over how he obtained a gun and his mother's parental fitness all came to question and scrutiny in the land of social media. When the footage was finally released to the public, so was the truth. 13-year-old Adam didn't confront police – rather – he had his hands up in the air ready to surrender when police violently took his life from close range.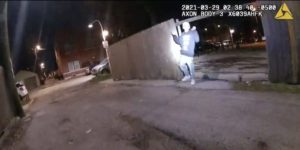 Prior to the footage reveal, Mayor Lori Lightfoot made statements affirming Toledo confronted police, and casually placed the blame on gangs for putting a gun into his hands. While she pushed this narrative, rumors swirled. Despite multiple outcries from his family and their lawyers, Adam was mischaracterized as a "lonely child of the street" rather than a young boy who had a family that loved him dearly. The troubling incident appeared strikingly familiar to those who mourned the loss of 17-year-old Laquan McDonald in 2014.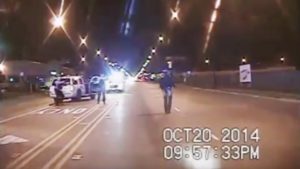 Thirteen months after police officer Jason Van Dyke shot and killed McDonald, his parents and the public finally learned from dashcam video the teen was walking away from police when they shot him, not toward them like they originally reported. Retired police officers and the general public voiced their suspicions over whether Van Dyke would have ever been brought to justice if it were not for video evidence. Now, McDonald's tragedy served a purpose by speeding up the release of body camera footage that captured Toledo's murder. 
While the use of video equipment has been championed by police officers and reformers for quite some time, police discretion on when and where to use such equipment is a prominent issue. Now, a new criminal justice reform bill spearheaded by the Illinois Legislative Black Caucus, will require all law enforcement officers in the state of Illinois to wear body cameras by 2025. The measure is part of the massive criminal justice overhaul state lawmakers approved in January. Though reformers see the law as a step in the right direction, questions remain over whether departments will actually comply — or use the cameras as intended. 
According to the most recent data from the Illinois Law Enforcement Training and Standards Board (ILETSB), only 75 of nearly 900 law enforcement agencies in the state use body camera equipment. Smaller municipalities in rural and suburban Illinois counties have voiced immediate concerns over the cost to not only outfit officers with body cameras, but for cloud storage space and the potential need to hire new employees to manage the data. The President of the Illinois Associations of Chiefs of Police James Black made statements about the price in his own city of Crystal Lake, citing a $500,000 cost to the city to implement the system.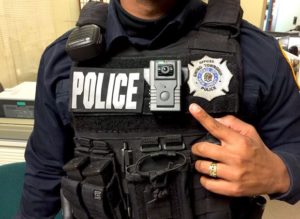 Effective dates for body camera compliance are staggered by department size. Illinois largest departments (>500,000) are required to be outfitted by Jan 1, 2022, whereas smaller departments (<50,000) will need to be outfitted by 2025. The catch? There isn't a penalty for departments not complying with the new law. Instead, the legislation hints at rewarding compliance – by offering preference on grants awarded by the ILETSB. So, with no financial assistance on the front end plus no penalty for noncompliance – is this law anything more than lip service? The outlook is dismal, and those aren't the only reasons why. 
"Police [all over the country] have had body cameras for years already. When the footage makes them look good, they'll release it. When it doesn't — they don't," says Kobi Guillory, Co-Chair of the Chicago Alliance Against Racist and Political Repression.
The CAARPR is an organization that exists to defend civil liberties of workers, activists, and prisoners. Its members routinely challenge the city government on police-involved issues, and they've developed an ordinance that "creates a pathway for community control over the police." To Guillory, the body camera law amounts to little more than window dressing.
"Nothing will change until police are actually held accountable. No matter what the rules are or what technology they have, they will not hold themselves accountable," he says. 
Adam Toledo's murder is a somber reminder of that concept. Even with multiple body cameras pointed at the young boy, a police officer still shot him at a close range. At the time of this writing, no decisions have been made on whether that officer will be criminally charged. Even with this video evidence, it's difficult to hold police accountable when there are legal loopholes and justifications for their actions.
More information about CAARPR.