Before Donald J. Trump ditched his real estate gig for the Oval Office, and before P. Diddy dropped the "P," the Vote or Die campaign focused on mobilizing young voters and voters in communities of color. This effort, led by Sean Combs himself, was the first of its kind to reach a demographic historically ignored and systemically disenfranchised by mainstream politics. Using traditional media and "street teams," Comb's nonpartisan group called Citizen's Change encouraged young people to engage in their civic duty in the 2004 presidential election.
Though Combs endeavor to intersect politics and pop culture was the first of its kind, it marked the beginning of a new era. At the time, no one could have predicted the rise of social media and how it would change the way Americans receive and analyze political messages.
The Online Revolution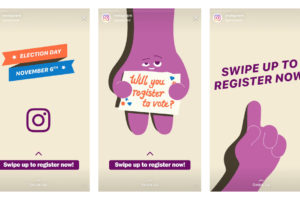 As social media has evolved throughout the past two decades, so has the way American citizens choose to seek out news. Erik Rankin, a long-time political science professor at Illinois State University, has seen this change happen in real time.
"Social media used to be a part of the mix in terms of how students received information, politically and otherwise. It now seems to occupy the vast majority of their information," says Rankin.
Rankin says he's seen students rely less on social organizations like churches, civic groups, family, and peer groups, and almost exclusively on social media to inform their decisions. One of those major players is the short-form video sharing network TikTok. According to global digital insights company Datareportal, TikTok brags 800 million active users worldwide as of 2020. 41% of those users are between the ages of 16 and 24.
Kayleigh Stiegelbauer, an 18-year-old college freshman, says TikTok is a way to access unadulterated content direct from the source.
"Front-line workers, politicians, and protestors use the app every day. They show you first-hand what's really going on," she says.
In a way, these TikTok users have become influencers: not in the traditional sense of exchanging products and services for publicity, but in the literal sense of the word. It's this "power to the people" attitude that makes the app so popular with Gen Z.
"TikTok has provided us a platform to make a difference," says Stiegelbauer. "I see normal people like myself doing everything to accurately inform people of what's actually going on. We're fighting for change."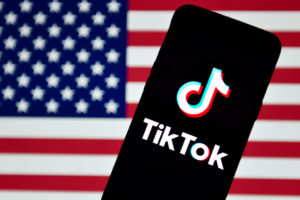 Tangible Outcomes
Though TikTok's direct impact on voter turnout may be difficult to measure, there are examples of the app making way for young politically minded users to mobilize. There is no better example of this than the Tulsa Trump rally "troll prank".
Back in June of 2020, then-President Trump boasted more than one million RSVP's to his campaign rally in Tulsa, Oklahoma. After an abysmal turnout, it was soon revealed a coordinated effort on TikTok was to credit. Videos circulating the platform encouraged users to sign up for the free event and not actually attend. It worked. While this prank required minimal effort, it certainly proved how the platform has the power to transform ideas into action.
The ability to influence change, big or small, has helped young voters feel more enfranchised than in previous election cycles. The Center for Information and Research on Civic Learning and Engagement (CERCLE) estimates roughly 55% of voting-eligible youth (ages 18-29) cast a ballot in the 2020 election, up from 44% in 2016. But federal elections aren't the only goal for young voters like Stiegelbauer.
"We've been told we're too young to care about. Before this, we felt trapped in our inability to make any changes. Now we have an opportunity to learn about petitions, charities, and causes we can get involved in," she says.
Candidates vs. Causes
 Her point speaks to a wider phenomenon Rankin has witnessed in his classroom.
"I would say that [my Gen Z students] are much less interested in candidates or parties and are more committed to causes such as racial justice or environmental issues," says Rankin.
Steigelbauer counters a reason for that tendency.
"My generation hasn't lived a single day where there wasn't a war somewhere. We have firsthand witnessed the effects of years of people just accepting the way things are. I've seen the destruction of rainforests, the polar icecaps dissipating almost entirely, multitudes of animal extinctions, a completely preventable pandemic, and the non-stop abuse of minorities in America."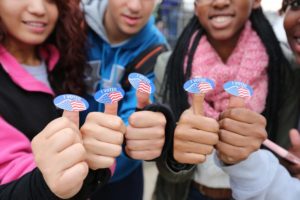 While Rankin believes young voters are more engaged than ever before, he also cautions they're hindered by apps like TikTok that create echo chambers – sometimes with inaccurate information.
"TikTok political videos are masking themselves as entertainment while presenting some terribly distorted information. The line between entertainment and fact is blurry and most of the users of TikTok have low knowledge of politics and history to know when they are being manipulated."
The Road Ahead
Scholars note, with examples aplenty, that presidential power expands over time. The role of social media in the presidential office and in voter turnout will likely follow the same path. Though TikTok is the latest and greatest tool available for young voters to obtain political content, there surely will be one to complement or replace it in the years to follow.
"Teaching at the beginning of this century, I would have mentioned very little about social media," says Rankin. "Now it is ubiquitous and a strategy that all business, political candidates, and average citizens engage in. Habits are set in stone at this point. Social media has grabbed our attention. The toothpaste is out of the tube and it is not going back in."
It's no surprise there are generational differences of opinion on TikTok's influence over the political realm. There is a way to meet in the middle, and that is by not taking content – from any second-hand source – at face value. Instead, TikTok users can use the app as a starting point and follow up with their own research. The beauty and benefit of the internet is in its vastness.