Life Lessons Learned from Living Barrier-Free
As the saying goes, "History bears repeating" and in the case of former Senator Carol Moseley Braun (D-IL), who is regarded as the first African American female to serve in the United States Senate, this sentiment holds great merit.
Regardless of how history plays out, former U.S Senator D-IL (1993 to 1999) Carol Moseley Braun will always be known as the first African American female U.S. Senator. And, remarkably, she is only one of two other African American female senators to hold a seat in the U.S. Senate. The other being: the now Vice-President Kamala Harris, who served as one of California's two Democratic U.S. Senators (along with Diane Feinstein) from 2017 and 2021.
With only a total of 11 African Americans serving as U.S. Senators, and Senator Moseley Braun is one of only two women, her trailblazing service proves to hold even greater significance. Currently, with Harris's ascension to Vice President and, subsequent resignation as Senator, there are ZERO African American females in the Senate.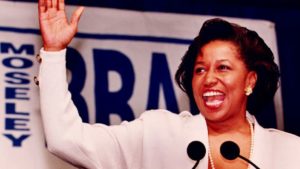 In 1992, vying for one of the two seats held by Illinois in the US Senate, Moseley Braun's strident move to run against Illinois' long-time incumbent Democratic Senator Alan Dixon was one borne out of frustration watching the Congressional hearings of Supreme Court Justice Clarence Thomas.
"Enough was enough," Moseley Braun said of the infamous sexual harassment hearings against the US Supreme Court Justice Clarence Thomas in which many felt Anita Hall's testimony was, by and large, disregarded.
On account of her race, gender and limited campaign coffers many at the time viewed Moseley Braun's senatorial campaign to be improbable and an audacious challenge. Yet, in a surprise victory, she won the election, earned the coveted seat and triumphantly took her place in U.S. political history.
As an African American and a woman, Moseley Braun said she was able to amass a broader constituency and offer perspective on issues specific to both demographics. Yet, as Moseley Braun mused, her time in the Senate was anything but go-along, get-along.
"Because I was not part of the good 'Ol' Boys' Club, I needed to come up with different types of strategies to go up against the brick walls of sexism (that existed at the time)."
What this meant for Moseley Braun was the importance of networking and the practice of educating male colleagues in the Senate of the specific challenges working women faced and needed to contend with such as: work/life balance and special health care needs.
As the former senator explained, "At that time, men were not prepared to make a lot of concessions. Now my guess is that this has changed – it had to have."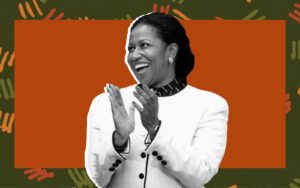 In the world of politics, of the significant roles that culture and gender played not only during the heyday of the Suffrage Movement, but also in current times, Moseley Braun stated, "The demands of the family… impinge more on women than men. That's just the reality. At the end of the day, culture trumps politics, right? And, culture is only the first step, so the whole issue of role definition is something we continue to grapple with."
A Chicago native, Moseley Braun's interest in politics and the legal field began, in part, as a by-product of the Civil Rights Movement and emulating the lawyer/civil rights activist, Thurgood Marshall, the first African American to serve as an Associate U.S. Supreme Court Justice (1967-1991).
Never getting the message from her parent's that, as a black female, she needed to put limits on her ambitions, she simply forged ahead in her pursuit of a law degree from the University of Chicago's Law School. And, despite being one of only a handful of black students, she went on to create the first black law students' association in Chicago as a forum in which law students of similar backgrounds could be represented, respected and heard.
In today's society, African American parents encouraging their children to follow their dreams (no matter how grand they are) is relatively commonplace. However, back then, African American parents tried to steer their children toward certain careers. Mainly because of rampant systemic racism and limitations placed on women (especially African Americans).  Many would consider Moseley Braun fortunate in that her parents were highly supportive of her efforts to pursue any vocation she chose, including that of becoming a lawyer. However, as Moseley Braun shared, as a youngster, her parents' messaging, which came during a time of great racial unrest in the country, may have actually done her a grave disservice, "They told me I could be who I wanted to be and do what I wanted to do and did not prepare me for the real world."
As an adult, when she queried her parents as to why they did not do a better job of exposing her to the harsh realities of the world, they said, "We did not want to crush your dreams."
And, perhaps not knowing 'better' or that discrimination was a 'thing' equipped Moseley Braun with the confidence and gumption to simply charge ahead rather than setting limits on her career. Thus, not one to see glass ceilings but rather to see them being shattered, she was able to successfully advance her career by walking through doors formerly viewed to be out of reach for women.
For the most part, in spite of her race and gender, Moseley Braun's path leading to the U.S. Capitol building in Washington DC took a very linear route. Following graduation, Moseley Braun garnered a position with the United States Attorney's Office in Chicago before winning her 1978 election to be a house representative in Illinois' State Legislature, a position she held for 10 years. And, as another first for Moseley Braun, in 1988, she was elected and served for four years as the first African American Recorder of Deeds for Cook County, Illinois.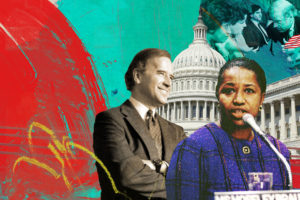 Yet, likely, in the role of U.S. Senator from Illinois, is where Moseley Braun commanded the largest platform. Serving on the judicial committee (at the personal behest, of at the time, Senator and now President Joe Biden) and also as the first female on the Finance Committee, Moseley Braun was able to make inroads on the national stage.
While perhaps not her most significant achievement, but notable nonetheless, in another first attributed to Moseley Braun, she goes down in the record books as the first female to wear pants on the Senate Floor.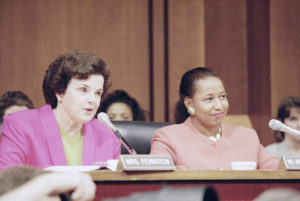 During her senatorial stint, beyond just the Congressional dress code, Moseley Braun said, as a new senator, she encountered many learning experiences. Namely of which, she said was the obstruction she faced on her first day when she arrived at the Capitol building only to have her access to the Senate floor blocked by security guards unsure of her identity. Plus, Moseley Braun elaborated on how, as both an African American and a women; it was incumbent upon her to ensure her voice was heard and, thus, needed to develop strategic approaches in her collaborative efforts to work well with other members of the Senate.
Of her congressional involvements, as the first female member of the Finance Committee and, as a member of the Judicial Committee, she is proud of her achievements on the Senate floor, a list inclusive of the following:
Opposing the renewal of a patent for the Confederate Flag

Garnering federal funding to make Martin Luther King, Jr.'s birthday a national holiday

As co-sponsor and supporter, she helped to obtain passage of the following pieces of legislation: 
Child Support Orders Act 

William J. (Bill) Clinton administration crime bill of 1994

Multiethnic Placement Act

Improving America's Schools Act
Additionally, Moseley Braun helped draft legislation to provide financial assistance to both divorced and widowed women, contending, "Pension laws were never written for women … no wonder the vast majority of the elderly poor are women."
When asked if, in hindsight, she harbored any regrets or misgivings of her time in the U.S. Senate, Moseley Braun spoke candidly about her lack of expertise in terms of not knowing how to navigate the media, "Simply put, I wasn't ready for prime time but, overall, I feel I did the best job I could at the time."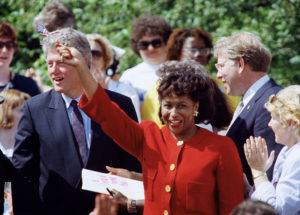 While she did not win a second term as a U.S. Senator, Former President Bill Clinton later named Moseley Braun as a United States Ambassador to New Zealand and Samoa – a position she held from 1999 – 2001. And, as a keynote speaker; City of Chicago mayoral candidate (2011); and visiting professor of political science with Northwestern University, along with several other educational institutions, she continued to make a name for herself in the public arena.
Feeling encouraged where we, as a nation and as a society, have come since her time in office, she spoke of the progress people have made with regards to more openly talking about race and gender issues.
Offering learned advice to women considering a career in politics, Moseley Braun stressed the need to build a strong network of support. As she stated, "It is important to remember that one's job as a public servant is to make things better for the next generation… Despite all the hurdles, the sacrifices of the job are all worthwhile. For in the end, it is one's patriotic duty and provides a great service to the country."
Last and foremost, historically speaking, one will always remember Moseley Braun as the first African American female senator in the United States and for the valuable contributions she made to help move the country forward.