"If you got money, you can beat just about anything." 
From Kyle Rittenhouse to Derek Chauvin, this somber sentiment rings true for inmates who aren't able to afford bail, sometimes as little as $100. John, a formerly incarcerated individual who did not want to use his real name, says it all comes down to the "haves" and the "have nots". Thanks to a sweeping criminal justice reform bill passed by the Illinois General Assembly in early January, some of that is about to change.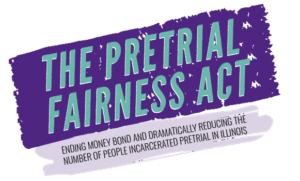 The Pretrial Fairness Act, which Illinois Governor J.B. Pritzker signed on February 22, 2021, will effectively abolish money bail in the state. Illinois is the first state in the country to do so.
"Money bail is a coercive system that penalizes people solely for their poverty without making communities safe," says Stephanie Agnew, Pro Bono & Communications Coordinator for the Chicago Appleseed Center for Fair Courts and the Chicago Council of Lawyers.
The Chicago Appleseed Center is a volunteer-led, non-profit organization advocating for fair, accessible, and anti-racist courts in Illinois. The organization founded the Coalition to End Money Bond in 2017 and has been a driving force in passing the act into law.
"I don't think many people who have not experienced the criminal legal system firsthand recognize that [money bond] is fundamentally unfair," says Agnew. "At every point in the criminal legal process – from arrest to parole – outcomes are based on individual stakeholders' discretion. The beauty of the Pretrial Fairness Act is that it will make the pretrial system fairer while also keeping our communities safe."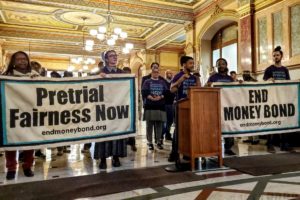 Statistics pulled from October of 2020 reveal that 1,423 of roughly 5,000 Cook County jail inmates stayed in jail only because they could not afford to pay their set bond amount. Of that group, 590 inmates needed to post $10,000 or less, and 130 people needed to post $1,000 or less to bond out. The data is clear: the constitutional presumption of innocence favors those who can afford it. 
"Some of these cases can take years," says John. "They're warehousing you for all this time, and you're not even convicted yet. It's supposed to be innocent until proven guilty. Not the other way around."
Detractors of this new legislation say eliminating cash bond will allow for more frequent reoffending prior to trial. Existing data proves this theory to be untrue. A study completed by researchers at Loyola University shows over time, only about 3% of people are rearrested for violent crimes in Cook County while out on bond. These stats are consistent with history dating back to the Eisenhower era. 
A revolutionary initiative in the early 1960s titled "The Manhattan Bail Project" studied whether certain detainees would appear for their trial if they were released on their own recognizance. Using a risk assessment tool to determine how rooted the detainee was in the community (meaning connected with family, friends, and their job status), researchers made recommendations to the court for inmates who passed their "risk of flight" test to be released. This did not include people who were accused of homicide, highly violent crimes, rape, or crimes against children. Over the project's three years, only 1.6% of the more than 3500 detainees who were released on recognizance failed to show up for trial. This 60-year-old data begs the question: why, if defendants will show up to their court date even without a cash surety, does money bond still exist?
It's a tale as old as the criminal justice system itself: racism and the prison-industrial complex. Right now, there are 5,326 people in Cook County Jail. "Almost 75% of these inmates are Black, and another 16% are Latinx," says Agnew.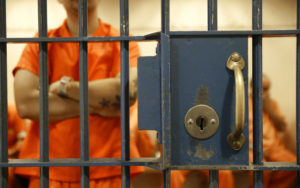 In addition to inmates missing time with their families and work, they're also being unnecessarily exposed to COVID-19. Each day spent in jail because of the inability to post bond is not just an eleventh amendment violation, it's a human rights violation.
"Research shows that people detained for longer than 3 days pretrial are 2.5 times less likely to be employed and reported housing instability at a 40% higher rate," Agnew says. 
Not only are there tangible consequences to pre-trial detainment in the community, but former inmates say the optics affect trial outcomes as well.
"When you're out [on bail], you're able to be back at work, you can join programs, you can be in the community," says John. "When you're out, you look less guilty. When you look less guilty, you have a better chance of defending yourself. The judge takes note of that. It carries weight. Being in jail because you can't post bail makes you look guilty."
And while legally-innocent citizens spend time sitting in jail because they can't afford to post 10% of their bond, taxpayers are getting hit in the pocket too. Adjusted for loss of labor, best estimates suggest America's current bail system cost taxpayers $15 billion a year. 
With the costs and stakes of the status quo being so high, inmates like John express that this overhaul in Illinois' bail system is long overdue. 
"Being a young Black man in this system with my upbringing, there was no winning [for me]. If you have no money, you're at the mercy of the courts."
The lasting impact of the Pretrial Fairness Act is still unclear, but the full crime reform bill legislation's start date is in 2023. Agnew says this will allow the state and supreme court to work with local court systems to develop an effective, fair, and equitable execution.
Information on the Chicago Appleseed Center for Fair Courts.