Throughout the years, enthusiasm for the NFL and the Super Bowl has surfaced as hyper-nationalism in the league's affairs. The big game has been revered as a keynote event in sports culture and more recently in American politics. Following the union of the two major football leagues, the American Football League (AFL) and the National Football League (NFL) in 1966, stadium-goers have remained loyal to their home team. The year 2020 was a tumultuous time for American socio-political affairs as we saw leaders falter, namely former President Donald Trump as he contested his own loss in a pandemic-battered election that put the nation on the fritz. Amidst the voting chaos, Covid-19 outbreak and social upheaval, citizens continue to find solace in virtual and socially-distanced activities while commiserating with their favorite incumbents.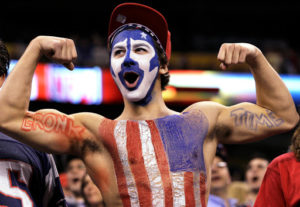 The NFL Super Bowl provides an indulging experience for former stadium-goers who've sustained attachments to their home teams. Fans' allegiance to their teams is mirrored in American's loyalty to their political parties- the politics of sports can be as polarizing as the values reflected in politics.  The anticipation over the championship persisted this year especially amidst the lack of community-engagement and physical inactivity brought on by nationwide closures. The Super Bowl remains the nucleus of patriotic behavior. Our society's fondness for the monetization of fan-driven gatherings provides an opportunity to explore the Super Bowls prevalence as a symbol of our country's patriotism.
At the Helm, In the Red Zone
The Super Bowl has an extensive history of politically charged-behavior and party-inspired imagery from die-hard fans and incumbents alike. The annual exhibition is patriotic in its ability to conjure up nationalism from fans, most of whom are likely to integrate some aspect of the NFL into their lives. The emergence of politics in football is an example of our capitalist faculty- favoring industries with an unwavering demographic. American politics revealed itself more in the league as present social issues became ingrained in NFL culture.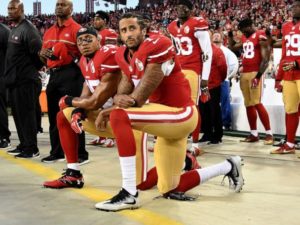 Most notably, former San Francisco 49ers quarterback Colin Kaepernick first went viral for kneeling during the national anthem during the 2016 Super Bowl broadcast, in allyship with the African American community against police brutality. In an attempt to eradicate criticism from their values, Republicans found an occasion to dispel hesitations regarding right-driven policies. Although Kaepernick lost his NFL career due to his public protest against police brutality, as the act was deemed the anthesis to culturally-imposed values in America.  Kaepernick's decision sprouted a digital movement, #StrongTogether, as artists and influencers took to social media platforms to express solidarity with those who chose to kneel. Subsequently, the #BlackLivesMatter movement expanded to communities of black and brown people globally, eliciting a modern response from public figures like Colin Kaepernick, and former president, Donald Trump, who deemed protesting as the ultimate antithesis to American patriotism. Moreover, Trump suggested players engaging in such behavior (that's considered "unpatriotic") is cause for removal from their sports teams, highlighted in an article published by BBC. In football, a "blue flag" is meant to signal a significant occurrence on the field, and the commissioner's viral tweet back in June of 2020 indicated just that as he stated that "We, the NFL, admit we were wrong for not listening to NFL players earlier and encourage all to speak out and peacefully protest. We, the NFL, believe Black Lives Matter."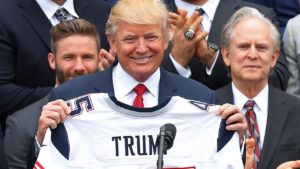 Looking back at 2020-a year of America being flooded with political criticism-and you'll find seemingly moderate publications like USA Today uncovering Trump's attempt to rebuff his impeachment trial and poor public image by adding his conservative flair to the Super Bowl during a pregame interview that aired on Fox News. The former commander-in-chief's behavior is usually aligned with his supporters' fidelity to him- partially because of his consistent approach to addressing his community's concerns. The strategy in his approach to save his presidency relies on individuals who exhibit fervor in their beliefs-a trait commonly attributed to sports fanatics. In the spirit of divisive politics, some figures freely mix business with extracurriculars, while others refrain for the sake of their careers. What does this mean for innocent viewers who prefer to stay out of the red zone? Well, that they may be inadvertently gassing the machine that is right-wing public policy. Conservatives and loyal sports fans have one major thing in common: the intensity in which they stand firm in their beliefs. Whether the playing field is a congressional hearing or a literal stadium, conservatives tend to support passionate fandom due to their familiarity with extreme devotion to their political beliefs.
THE NFL AND THE U.S. MILITARY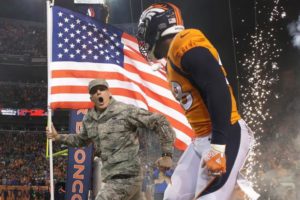 The league has integrated military culture into its affairs with pride as NFL officials actively cultivate new standards of American patriotism via this inclusion. In 1991, commissioner Paul Tagliabue prompted the NFL's military clout by boasting the Super Bowl as the winter Fourth of July celebration, cited by Bleacher Report. The league's efforts to boost military influence on social ventures is considerably patriotic, as fundamental support and benefits from the military can be intoxicating. Similarly, during the Super Bowl 52 coin toss, a speech given by commissioner Roger Goodell recognizes the military community through increased partnerships, honoring the "NFL's longstanding tradition of hosting special tributes to service members at the Super Bowl" as featured on the NFL Communications website and military media and lifestyle blog We Are The Mighty. Similarly, Super Bowl 50 featured support from the Armed Forces Color Guard with the presentation of our national colors alongside drummers from the U.S. Army's marching band, yet another display of conservatives' grip made public by the U.S. Department of Defense.
The Super Bowl and Political Rallies: Common Ground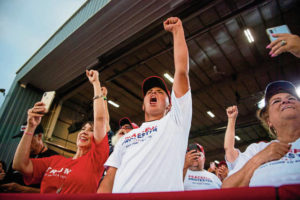 Racial politics have become intertwined with the annual spectacle. In the same way that they exercise extreme devotion to American militarism, the League has taken stance-literally-on social issues, prioritizing unwavering loyalty to the United States over social-upheaval across the country. Further, the methods in which political officials dazzle fans resembles the tenacious effort presented by politicians at debates and rallies. This stimulates opportunity for expansion as the league's target demographic becomes particularly marketable. The Super Bowl remains a source of income for advertisers and partner companies-raking in approximately $5 billion in advertising revenue according to findings published by Fox Business. More recently, the league's response to social injustice and modifications to the production due to the pandemic raises concerns about potential earnings for this year's game. The NFL halftime show's star-packed performances fosters the initial attraction to the Super Bowl which is then strengthened by engaging commercials catered to the standard football fan.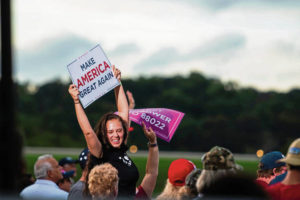 This year, to the dismay of advertisers, devotees have started to divert their attention away from live sports due to coronavirus restrictions and modified games, according to a Wall Street Journal report. Drastic downsizing efforts and public safety precautions have been a common theme in the sports and entertainment industry, with companies looking to get the biggest bang for their buck. If you're tuned in, the wisest course of action lies in monetizing the surge in screen time. What adjustments should a brand or media conglomerate make to stay afloat? Although advertisements are seemingly unique and universal, ad teams this year should refine their approach to reflect the socio-political climate. The reality is – openly fighting for cultural change and stopping political unrest is the new form of American patriotism. Similar to a political rally where citizens assess their candidate's ability to enhance their lifestyle and well-being, NFL advertisers must bet on the likelihood of a demographic indulging in their products and experiences through a national rally that we call the Super Bowl.