The NBA and –to a lesser-known but much greater extent– its sister league the WNBA have gained reputations for progressive, forward facing approaches to player freedom and voice. Basketball represents a unique intersection of race and athletics in the United States. While major sports have always had highly racialized histories –it took more than fifty years and two World Wars for Major League Baseball to integrate, and we don't even need to talk about the politics of the Black quarterback– since as early as the 1960s basketball has always been viewed as a Black sport, and it has suffered as well as prospered for it. In times of controversy, be it drug scandals in the 1970s or the infamous "Malice at the Palace" brawl of 2005, there always seems to be an incongruent level of scrutiny and finger wagging directed at the largely Black player base. Yet, during times of unbelievable national racial strife, violence and tension, basketball players have always been willing to sacrifice image, dollars and careers to fight for the greater good. From Bill Russell, Kareem Abdul-Jabbar and the trailblazers of before to Jaylen Brown, Dame Lillard and the warriors of today, basketball players have proudly carried a political tradition. Seeing as All-Star weekend comes every Black History Month, and in the midst of a nation and democracy reckoning with its sordid racial past, I'd like to take the time to celebrate some of professional basketball's most courageous, intelligent and principled figures. These are the eight"wokest" hoopers today.
8: Kyrie Irving, Brooklyn Nets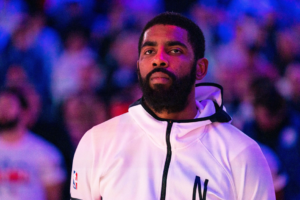 Kyrie has made himself into something like the Kanye West of the NBA, and I mean that in the nicest way possible. While their politics could not be more dissimilar, Kyrie seems to court controversy and seize headlines in a way that only the Louis Vuitton Don can match. That lightning rod nature comes from Kyrie's unwillingness to follow scripts or hold his tongue, particularly regarding issues of race. Last year's NBA season was one like no other and will never be replicated; the COVID-19 crisis stopped the season in its tracks, and when play resumed in a highly secure health bubble in Orlando, the most turbulent and challenging racial atmosphere since the Civil Rights Era threatened to end it entirely. In the midst of these multiple crises, Kyrie Irving argued for principle over profit, leading a vocal contingent of players asking to cancel the season so as not to serve as a distraction to the problem of white supremacist and racist police violence in America. From pledging his dollars to social justice initiatives from his WNBA counterparts, to producing a documentary on Breonna Taylor, and even donating funds and supplies to his late mother's COVID stricken Sioux reservation, Kyrie's stance on justice has been clear and consistent, and while his absence from the Brooklyn Nets' lineup has no certain reason, the basketball star has repeatedly asserted his belief in the fight for equality above the expectation that he simply play the role of ball player.
7: D'Angelo Russell, Minnesota Timberwolves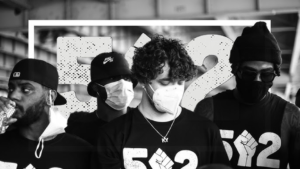 D-Lo may have first entered the consciousness of many hoops fans by way of his own immaturity -his antics and behavior during his rookie year drew the ire of one Kobe Bryant and stunted his growth in LA, eventually leading to a trade to Brooklyn. Since then, Russell has grown into a thoughtful, principled and intellectually curious young man. Like many of his NBA colleagues, Russell made his stance on the public upheaval surrounding the murders of George Floyd and Brianna Taylor well known. A Louisville native, Russell personally attended several protests regarding the murder of Taylor, which occurred in the city. Most recently, when asked about the right-wing led attempted coup at The Capitol, Russell turned the question back on the media. It was not a contentious or disdainful attack at reporters that have been known to get under the skin of many an athlete, instead it was an earnerst, genuine and thought-provoking attempt to actually establish a dialogue about race in America. So frequently, we talk about having "discussions" and "conversations" about race. What we (read as: white people) really mean by that is "how are you Black folks gonna stop white folks from killing you." By engaging the media this way, Russell challenged the apparent obligation Black public figures have to respond to white racism, and generated a legitimate conversation about what is wrong with this country, and what needs to be done to fix it. Such wisdom is rare in men twice his age that spent more than one year in college.
6: Jaylen Brown, Boston Celtics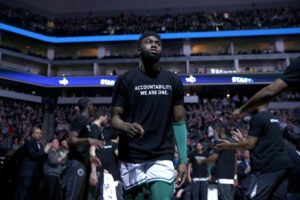 Jaylen Brown is fucking brilliant. This is no secret, much has been written on the, at times, intimidating intelligence Brown has. The tone of that writing can frequently tilt towards the well meaning, liberal kind of racism that veils surprise at the notion of Black intelligence as complimentary, labeling any Black person with a coherent thought or sentence "articulate" or "well spoken." The UC Berkeley product is all that and then some, finding a way to connect David Foster Wallace and Dr. King in an answer to a 2018 Guardian interview. "'We've got two young fish swimming one way and an older fish swimming the other way, they cross paths and the older fish says: 'What's up guys, how's the water?' The two younger fish turn around and look back at the wiser fish and ask: 'What's water?' They've never recognised that this is what they actually live in. So it takes somebody special like Martin Luther King to see past what you've been embedded in your whole life" Brown said, responding to questions about the state of race in America as his team addressed the media in advance of a game in London. An unnamed NBA executive infamously labeled Brown as "too smart for his own good" in pre-draft evaluations. Too smart for the league, perhaps, as the kind of militant, challenging intellectualism Brown carries is rarely good for business.
5: Chris Paul, Phoenix Suns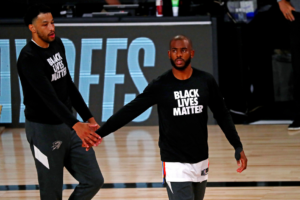 CP3 has been around the block more than a few times. The 16-year vet and sure fire Hall of Famer has always carried himself with a level of pride, confidence and thoughtfulness that is rare for anyone, let alone a professional athlete, the kind of figure we as culture almost always expect less while simultaneously demanding the most from. His career has led him through treacherous waters and trying times; he began his career in New Orleans mere months post Katrina, being forced to play his rookie year in Oklahoma City as NOLA rebuilt in the wake of the storm. After Hurricane Harvey ravaged Houston, he found himself in familiar territory, dedicating himself and his significant means to helping people who largely resembled him recover in the wake of losing everything. Paul serves as the player-head of the NBPA, the players' union, perpetually fighting for workers rights in a league and environment where labor is viewed as leisure and constantly deemed less valuable than it is. In the Bubble, in his capacity as union leader and NBA elder statesmen, Paul ensured focus stay on the fight for equal rights and protection, forever keeping the leagues feet on the fire. Union man, grizzled vet, man of the people. Paul has seen it all and never flinched.
4: Damian Lillard, Portland Trailblazers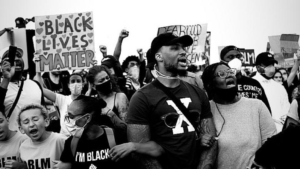 "Being somebody that uses my platform and has actually been out there literally marching, you look around and just think. I'm not sure exactly what to do going forward, but I think whatever it is, it has to be with action" said superstar point guard Damian Lillard to The Undefeated in January. Part time baller, part time rapper, full time activist Dame D.O.L.L.A. is acutely aware of the platform he holds and the cultural capital that comes with it. "The whole, using my platform and just trying to post about stuff and all that, we're past that point. We've got to start figuring out what's the plan of action. I want to actually be a part of some change." Lillard has committed himself to action in his mission to enact change, marching with the people, voicing his opinion, and empowering the masses through communication and knowledge, investing in a Black owned media company, PlayersTV. The Portland star knows himself, his image, his worth and his power. He wields it appropriately.
3: Maya Moore, Minnesota Lynx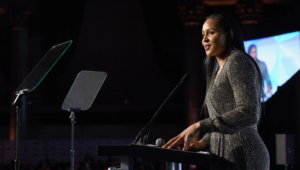 Maya Moore is one of the greatest women's basketball players of all time. She has one of the most storied and accomplished careers in WNBA history and is one of its most recognizable and iconic players ever. More than that, more than anything, Moore's legacy may yet be most determined by her remarkable dedication to criminal justice reform. The WNBA legend took two years off from the game at the age of 29, in the midst of her athletic prime, to commit herself to the case of Jonathan Irons, a man sentenced to 50 years for assault with a deadly weapon at the age of 16. He was convicted based on a case that had no physical evidence, largely from a coerced confession. Moore, rightfully so, believed this to be a wrongful conviction and a miscarriage of justice. Four championship seasons be damned, the star left the court to dedicate her time, money and energy to righting the wrongs of a rigged system and fighting for a future that ensured that all people, regardless of race or class, are ensured fair and equal practice of the law. "Sports has a big platform and a lot of eyeballs on it. In the prosecutor's office, there are not a lot of eyeballs — people aren't paying attention — and so there's very little accountability," said Moore to The Washington Post. "So wanting to take a platform with a lot of eyeballs and pointing it to a platform that needs more eyeballs on a human level, I think, is really effective." Irons has since been freed, and Moore has since established the Win With Justice initiative, a program dedicated to criminal justice reform.
2: LeBron James, Los Angeles Lakers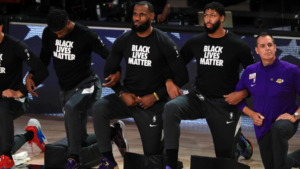 Love him or hate him, LeBron James is the single most important athlete of his generation, one of the two greatest players to ever take the court, and a titan of American culture. His monumental status on and off the court has led him to gladly accept the frightening responsibility that comes with his frightening power. Bron has been a superstar since before he could buy a beer –he made his NBA debut only a couple months after legally obtaining the right to vote. Since then, James has been burdened not only with the weight of having to grow up and live in the most public of eyes, but also serving as the face and voice of Black America for those who would not otherwise encounter it beyond their television screens. With this responsibility in mind, LeBron has made enacting change a personal mission: this past summer alone, he led massive voter registration initiatives, lobbied the NBA to make each of its stadia polling places, and supported the Milwaukee Bucks led player walkout, threatening a full on strike if the NBA did not dedicated considerable resources and an action plan to addressing racial inequity. Beyond that, LeBron founded the I Promise school in his hometown of Akron, Ohio, in an effort to provide an underserved, predominantly Black community with quality K-12 education and college preparedness. Regardless of your opinion of him, LeBron James is a champion of human rights and equality, and his tireless work reflects his dedication to those causes.
1: The Atlanta Dream, WNBA Franchise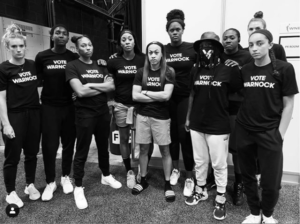 On the heels of the most important national election in decades, the country turned its attention to Georgia, where two statewide senatorial special elections would decide the balance of power in the most important governing body of the legislative branch. Democrats Rev. Raphael Warnock and Jon Ossoff sought to unseat incumbent Republicans David Perdue and Kelly Loeffler, the latter of whom happened to own Atlanta's WNBA franchise, the Atlanta Dream. The WNBA and its players have long been outspoken and action oriented regarding progressive causes, particularly on matters of race. The league was one of the first to unify behind the cause to raise awareness of and fight against police brutality in the US led by Colin Kaepernick. Players throughout the league –courageous and talented women grossly underpaid for their labor and talents– put the greater good first, repeatedly. Loeffler, an outspoken antagonist of the Black Lives Matter movement, provoked her own players and their league, both parties publicly rebuking her policies and statement both as an owner and lawmaker. Understanding the gravity of this runoff election, the players whose checks are signed by Ms. Loeffler organized against her, leading voter registration efforts across the state that eventually led to underdog victories for both Warnock and Ossoff, making a powerful statement that resonates at a national political level. The bravery of these women cannot be understated nor over appreciated.